The concept for BDS Movement .Org arose in 2016, during a chance visit to historic Flushing Meadows Corona Park in Queens, New York City.  As we walked around pictaresque Meadow Lake, we noticed several examples of BDS Movement activism adorning several areas of the park.
One standout example included baseball field 14 on the east side of Meadlow Lake, decorating the sandbox in bold, bright letters. This zealous advocacy could also be seen in several other areas, such as sidewalks, lookout points and several lamp posts around the park. The activism continued to take place predominately around Meadow Lake.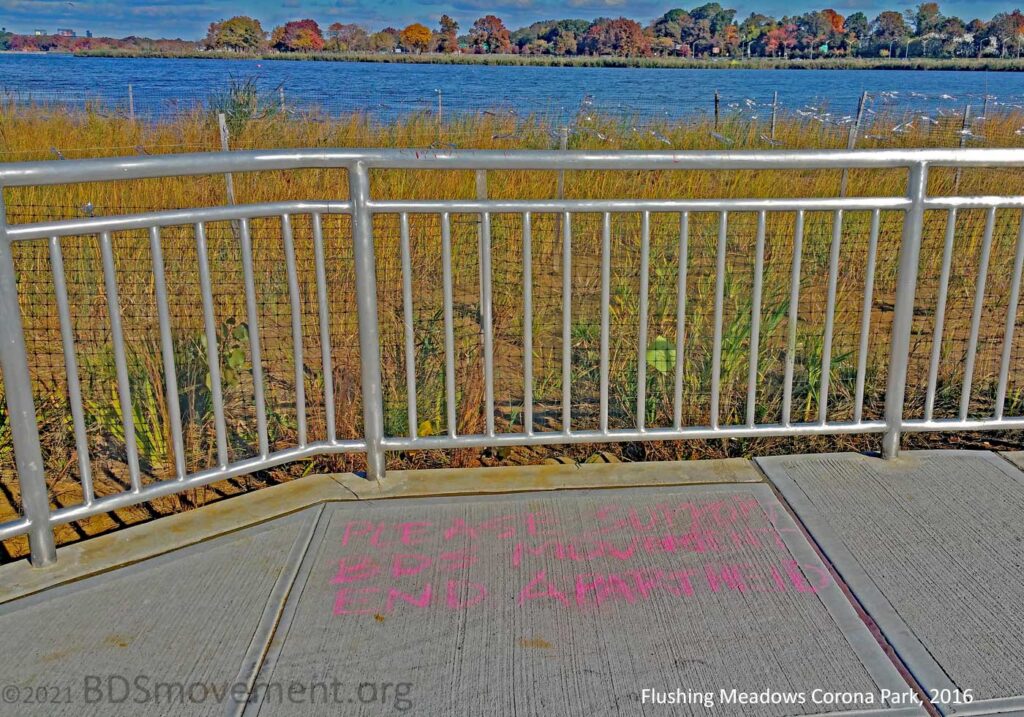 What began as some casual picture taking of the scenery around Meadow Lake in Flushing Meadows Corona Park resulted in a fun scavenger hunt to see whether we could find the various places where this passionate BDS Movement effort could be seen.
We decided to publish our photos to raise awareness of this important issue given that it has begun to reach previously unforeseen peaks!  Given the enorminty of our library, we will be making periodic updates to this website. Please contact us for any reason!
NOTE: We are NOT affiliated in any way with the Palestinian BDS National Committee (BNC) or bdsmovement.net.